Ischia by boat
Starting from
€1,050.00
per boat *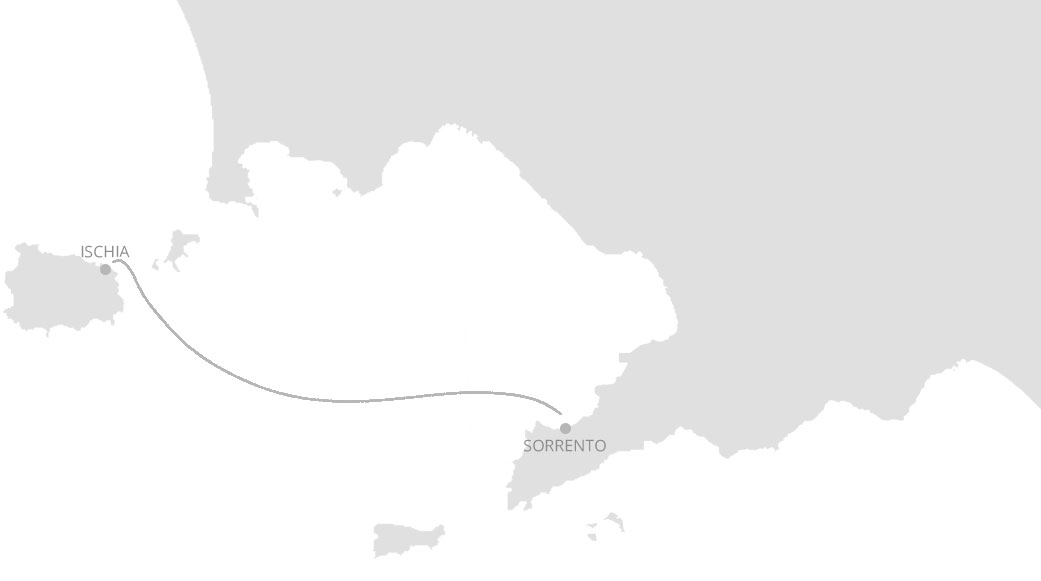 Note: *
* IN LOW SEASON ONLY BOAT APREAMARE 8.5
We respect all the anti-contagion rules to guarantee your safety.
Services exclusively organized only by Giuliani Charter.
Tailor-made services for all your needs starting from € 25 up to € 3000.
In detail
Ischia with its 37 km of coastline offers the opportunity to enjoy the sea among the ravines, caves (the Green Grotto and the Magician's Grotto), bays and strips of sand, beaches colored by smooth pebbles, where swimming is a moment of true relaxation.
From the sea we will admire the spectacular Aragonese Castle, the enchanting bays of San Montano and Sorgeto Bay and then reach the characteristic seaside village of Sant'Angelo.
The island of Ischia has real corners of paradise where sea water mixes with the warm water of the mineral springs that gush a few steps from the shoreline, hidden places where silence is broken only by the voice of the seagulls.
Ischia is also known as the Green Island. There are two currents of thought to justify its nickname:
the first wants this nickname to have been assigned to the island by the first visitors, enchanted by the amount of vegetation that covered the island; more likely, however, that the origin of the name is to be found in the abundant amount of green tuff present, a peculiar characteristic of this area.
Its coast is mixed with sandy and rocky stretches and its seabed is rich in marine flora and the most common fish of the Mediterranean.
Ischia offers a variety and diversity of beaches: for families, with fine sand and shallow waters, for young people like the beach of Cava dell'Isola or very large and therapeutic beaches such as the Maronti beach; romantic beaches like that of San Montano and finally those in which thermal activity is manifested in the sea, creating pools of hot water, as in the bay of Sorgeto and Cartaromana.
Fill out the form to request more information