Sorrento by boat
Starting from
€200.00
per boat *
Note: *
IN LOW SEASON ONLY BOAT F.lli Aprea
We respect all the anti-contagion rules to guarantee your safety.
Services exclusively organized only by Giuliani Charter.
Tailor-made services for all your needs starting from € 25 up to € 3000.
In detail
The excursion starts from Sorrento, to closely visit the places that inspired the famous singer-songwriter Caruso who composed "Torna a Sorrento" ("Back to Sorrento").
If you want to see the sea that inspired poets and writers and the "mythical" travelers of the Grand Tour, get ready for a splendid excursion to the Bagni della Regina Giovanna, one of the most enchanting places in this beautiful and renowned coastal town.
The landscape is made up of a huge cliff that encloses an enchanting natural pool, surrounded by Mediterranean scrub and so much beauty, which is accessed from the sea through a rock arch. The name of the place derives from the habit of Queen Giovanna, sovereign of Naples in the first half of the 1300s, of coming to immerse in the tiny natural lagoon, away from prying eyes.
Legend has it that here Queen Giovanna chatted with her handsome and young lovers, then throwing them from the surrounding rocks so that they would not tell of their secret encounters. It is then possible to reach the Bay of Ieranto, a natural area included in the Marine Protected Area of ​​Punta Campanella and which belongs, for more than half, to the FAI. A wonderful inlet located right in front of the Faraglioni rocks of Capri, which is divided into Baia Grande and Baia Piccola, separated by Punta Capitello. Some legends tell that the enchantment of this place is due to the sirens who lived in its crystalline waters and it is easy to imagine them playing among these rocks. It was also true for Norman Douglas, who wrote Siren Land here in his Casa Silentium.
Lulled by the rocking of the sea, you will therefore be led to the discovery of this real paradise from which you can see the citrus fruits of this beautiful land, and if the wind is in your favor, even perceive its smell.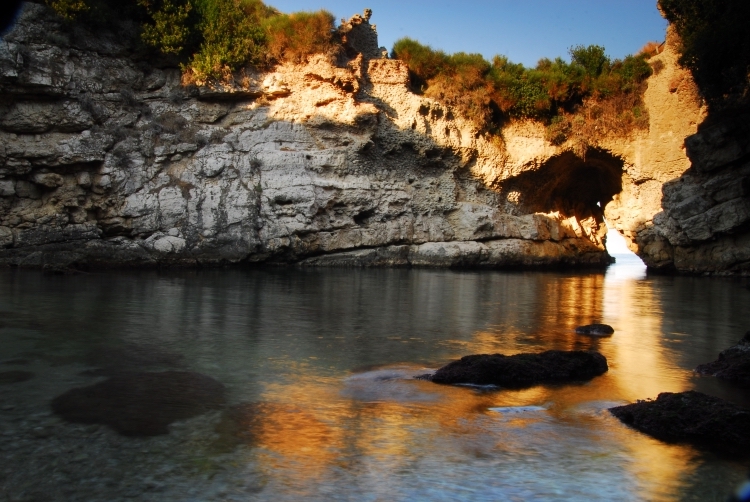 Fill out the form to request more information