Capri sunset
Starting from
€350.00
per boat *
Note: *
* IN LOW SEASON ONLY BOAT F.lli Aprea
We respect all the anti-contagion rules to guarantee your safety.
Services exclusively organized only by Giuliani Charter.
Tailor-made services for all your needs starting from € 25 up to € 3000.
In detail
The departure of the tour is in Marina Piccola di Sorrento with an excursion of the coast and a stop in the bay of Mitigliano with the splendid postcard of Capri and its Faraglioni rocks. All while sipping an excellent iced Italian Prosecco accompanied by fresh fruit to enjoy a dip in the sea at sunset.
Mitigliano Bay is a wide and pleasant spot with a crystalline sea; the fantastic view of the island of Capri and Punta Campanella makes the bay an enchanting beauty.
The bay is bordered by high and sheer rocks, even the small beach is characterized by the presence of rocks and stones of various sizes; on the right side, a construction in the shape of a circular tower, used in the past for the production of lime, recalls the time in which the quarry was active.
Along the coast there is a circular cave with a diameter of about 6 meters, on a depth of about 15 meters. The cave, a paradise for scuba diving enthusiasts, is only accessible in calm sea conditions and low tide.
Continuing on you can see the huge Faraglioni rocks of Capri, very high pinnacles that rise from the sea from 81 to 111 meters, which were created following the erosion of the sea and atmospheric agents.
Beyond, the vast side of Marina Piccola opens up. Immediately on the right you can see the Fontelina establishment and a little further on the "Albergo dei Marinai" Grotto, once used as a refuge by fishermen.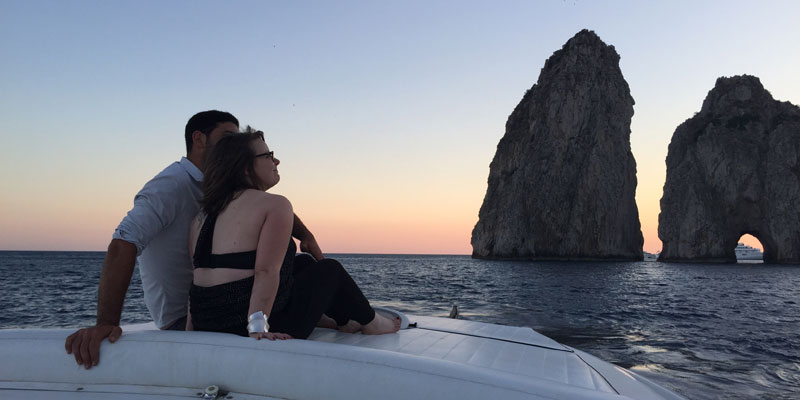 Fill out the form to request more information